New Book Release
PAUL SAWYIER-KENTUCKY ARTIST by William Donald Coffey, published 2010 (see References for more information).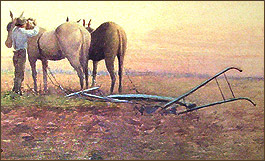 Sawyier was born in 1865 near London, Ohio and lived on a farm for his first five years. (The Good Earth) In 1870, the family moved to Frankfort, Kentucky to live with his maternal grandmother Wingate. His father also had his medical practice in their home on Broadway and Elk's Alley, near the entrance to the new Kentucky Historical Center, 100 West Broadway. The children attended the new Second Street School and Paul and his sister Natalie were tutored at home in art. Paul Sawyier had three sisters, Lillian (Hill), Natalie (Bentz), Mary Campbell (Neiss-Waner) and one brother, Henry Wingate, who attended the new Second Street School.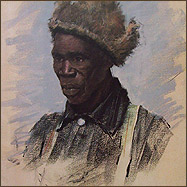 Sawyier's painting career began about 1890. He was trained mainly in portraiture by Thomas Noble and Frank Duveneck in the Cincinnati, Ohio area, and by William Merritt Chase in New York. Initially, Sawyier made his living by painting portraits of local individuals, including Governor Charles Scott (Portrait), Charles Harper, President of the Frankfort & Cincinnati Railroad,(Portrait) and of his grandfather Henry Wingate, Kentucky's first Grand Mason, and Henry Waters, a local stone mason. (The Rockbreaker) It is estimated that he did about fifty portraits, mainly in pastel. By 1900, Sawyier was painting landscapes in the "impressionist" style. He did multiple versions of scenes of the road leading up Louisville Hill, (Blacksmith's Shop) near Second Street School and of the streets of downtown Frankfort. (Main Street Trolley).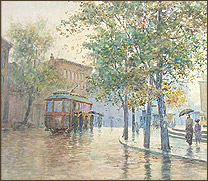 Sawyier's favorite landmarks were of the old covered bridge (Covered Bridge in Autumn) and of the singing bridge that replaced it, which can be seen from the Frankfort City Cemetery (Boone's Bluff), and the fountain in front of the old Post Office and Court House.(A Rainy Day on Wapping Street) He also frequently painted views of the front of Old Capitol. (Old Capital Fountain). When painting scenes of the Kentucky River, the focal point was often from the Frankfort City Cemetery (Blanton's Landing) and usually included the steeples (The Steeples) of the County Courthouse, Good Shepherd Church, and the old Federal Courthouse, currently the Paul Sawyier Public Library. Scenes on the river normally included a houseboat as part of the activity on the river. (Romance On The River).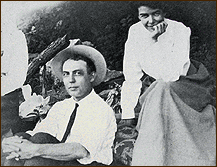 Paul enjoyed fishing and spent considerable time on the Elkhorn Creek, to the east of Frankfort. In many scenes he included a fisherman (The Fisherman), Church's Grove, the location of Indian Head Rock on Elkhorn Creek (Indian Head Rock), and Dr. Suter's house at Peak's Mill.(Dr. Suter's House). Paul Sawyier enjoyed many outings on the Elkhorn Creek and Kentucky River with his life long love, Mayme Bull. In one scene he included Mayme in a canoe under a sycamore tree and gave the painting to the lady who introduced them.(Mayme Bull On The Elkhorn) Sawyier depicted figures in several paintings, but never provided facial details, except for in Paul's Love, (Paul's Love) leaving it to the viewer to "picture" the details. (On A Sunday Afternoon). Paul Sawyier promised his mother he would not leave Frankfort until after her death. When this occurred in 1908, Sawyier started traveling the Kentucky River. He lived on a houseboat on the Kentucky River (River Rides)4 or with friends, primarily around the Shakertown-High Bridge and Camp Nelson areas (Wintertime at Camp Nelson)4. Sawyier completed over 500 paintings during this period, doing scenes of the Kentucky River palisades (Lover's Leap) and landmarks such as the High Bridge.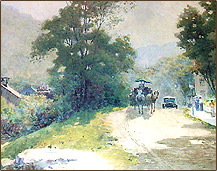 In 1913, Sawyier sought new markets for his paintings and moved to Brooklyn, New York where he lived with his widowed sister. His paintings were primarily in oil, and of scenes of the local parks (A Rainy Day in the Park) and based on photographs, scenes from Kentucky (Lover's Leap II). In 1915, he moved to the Catskill resort area and lived first in Highmount. (Countryside). After about a year, he moved in with the Schaefer family in Fleishmanns, New York. This community was similar to his hometown in Frankfort and he painted several scenes of the road leading to the downtown. (Road To Town, 1916).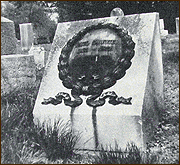 Paul Sawyier returned to Frankfort in October, 1914, for the burial of Mayme Bull. It is generally felt that Paul and Mayme did not marry so that they could care for their elderly parents. Details of their relationship were lost when their love letters were destroyed after Paul's death, by his sisters.

Paul Sawyier died in Highmount, New York on November 5, 1917, at the age of 52, of a heart attack. Initially, he was buried in the nearby Covesville Cemetery. Five years later, his cousin, Judge Russel McReary, returned Sawyier's body to be reinterred on June 9, 1923 in the Frankfort City Cemetery.